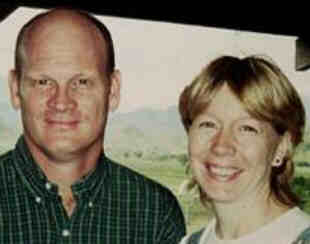 Deaths which occurred on a June 07:
2002 Ediborah Yap, Martin Burnham, 42, and four Abu Sayyaf bandits who were holding them hostage, in a rescue attack by hundreds of Filipino elite soldiers, near Siraway, Zamboanga del Norte, southern Philippines. Among the wounded is Gracia Burnham (born 17 Jan 1959), Martin's wife, with a gunshot wound all the way through her right thigh. The Burnhams [04 Jan 2001 photo >], New Tribes Mission missionaries from Wichita, Kansas, in the Philippines for ten years, were kidnapped on 27 May 2001, at the Dos Palmas Island Resort at Honda Bay off the island of Palawan, where they were celebrating their 18th wedding anniversary. Yap, a Filipino nurse, was kidnapped days later when the Abu Sayyaf, with the Burnhams in tow, raided a hospital in the southern town of Lamitan to seize hospital staff and medicine to treat their wounded. The guerrillas kidnapped 18 other persons along with the Burnhams, including 17 Filipinos and Corona, California, resident Guillermo Sobero. Sobero was beheaded by the guerrillas in June 2001. Some of the other hostages were murdered too, but most were freed. By November 2001 only the Burnhams and Yap remained hostages. The Abu Sayyaf fighters are thought to number only 60 or so from an original force of 1000 after a year of army offensives. The group started out fighting to carve a Muslim state out of the southern Philippines, but it has degenerated into a kidnap-for-ransom business.
2002 Takayuki Niimi, 32, soon after being punched in the face several times and then, when he fell over, stabbed in the head with an umbrella by acquaintance Ryuji Sakamoto, 32, enraged by Niimi's long-time rudeness in failing to use an honorific suffix, such as "san", when speaking to him, in Sakuragi, Japan. Both men were unemployed.
2002:: 67 persons on a bus crowded with Afghan families returning home after years in Pakistani refugee camps, which plunges into the Kabul River, near Sarobi, 25 km east of Kabul.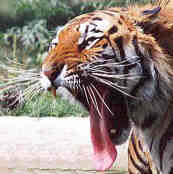 2001 Royal Bengal tiger, shot at the Royal Chitaun National Park, 150 km south of Katmandu, Nepal, after killing five people between 31 May and 06 June in neighboring villages. There are some 5000 Royal Bengal tigers in the world. India has about 3000, Bangladesh has some 300, Nepal has some 150. [click image for more on R.B. tigers >]
1999 Francisco "Paco" Stanley, 57, and Jorge Gil, gunned down on Mexico City's beltway. Stanley era un abogado formado en la Universidad Nacional Autónoma de México (UNAM), la principal del país, y tenía especialidades en sicología, mercadotecnia y publicidad Ex profesor de enseñánza secundaria, se inició en la locución radial en 1969 y durante la década de 1980 incursionó en la televisión para convertirse en uno de sus más populares animadores. emisión Gil era un periodista que aparecía con Stanley en la emisión "Una tras Otra". There would follow a protracted prosecution which would destroy the reputation of chief prosecutor Samuel del Villar and end on 25 January 2001 with the acquittals of Stanley's on-screen sidekick, Mario Rodriguez Bezares, and an aspiring actress on his program, Paola Durante. Both had been charged with setting up Stanley for the streetside killing. Also acquitted would be alleged drug lord Luis Amezcua, to whom prosecutors claimed the slain comedian had owed money for drug buys.


1998 James Byrd Jr., 49, Black, is chained to a pickup truck and dragged to his death in Jasper, Texas, a crime that shocks the world. ^top^
Three men, Lawrence Russell Brewer Jr., 31, John William "Bill" King, 23, and Shawn Allen Berry, 23, chained him to the back of a pickup truck and dragged him three miles down the road. Byrd was black; his three killers -- whose guilt was never really in doubt -- were white.
Byrd, a black Jasper resident born on 02 May 1949, got so drunk at a party that his friends and relatives refused to drive him home. So he walked. When three white men, Berry, Brewer and King, offered him a ride in Berry's primer-gray pickup, he apparently jumped right in. What happened next is hazy, but the four men didn't go home. Instead, they started swilling beer together and smoking cigarettes.
Eventually, some combination of Berry, Brewer and King tired of the camaraderie and decided to chain their newfound companion by his ankles to the back of their pickup and drag him down a county road. Finally, Byrd's head hit a culvert and split, along with one arm, from the rest of his body. Brewer, Berry and King unchained the body and left it outside the gates of a local graveyard, then went their separate ways. Byrd's buttocks and heels were ground down almost to the bone. He was alive and probably conscious until his head hit the culvert. His last moments couldn't have been anything short of excruciating. Berry later said that he was a horrified bystander, not an active participant. He said that the other men threatened him, saying "the same thing can happen to a nigger lover."
Brewer and King both had racist tattoos and open ties with a white supremacist group. While they were in jail in Jasper County, Brewer sent King a note proudly boasting that after Byrd's death, "we are bigger stars, or should I say hero of the day, than we ever expected." King first (25 February 1999), and then Brewer (September 1999) were tried and sentenced to death. Berry, who did not have the same racist antecedents as the other two, was sentenced to life in prison (parole possible after 40 years)(18 November 1999).

1997 Amos Tutuola, escritor nigeriano.

1989 Still a few more people killed in the Chinese anti-democracy repression. http://www.cnd.org/June4th/1989.06-07.hz8.html ^top^
"Quiet Day, Only Two People Shot" -- Foreigners Scramble to Leave China
Swept by alarms, reverberating with the crump of distant artillery fire throughout the night, Beijing looked scarred and battle-worn Wednesday morning 890607 as rival armies appeared to be wrestling for control of the city.
But it seems optimism must find some outlet in these desperate days. "We had a quiet day. Only two people shot that I know of, at least in this neighborhood," one man said. He was standing next to his bicycle at the intersection of Dong Dan and Chang An Avenues.
Chang An, the Avenue of Eternal Peace, has been crunched up and deeply furrowed by the treads of tanks, armored cars and trucks, which come and go in thunderous convoys, heading east to the city's outskirts at night and returning in the morning.
Thousands of soldiers, many firing long bursts wildly in the air, moved out of Tiananmen on Wednesday morning. While the convoy rolled east, other troops were reported approaching the city centre from the south, giving rise to the theory that a rotation of forces was taking place.
Many Beijing residents say they want troops loyal to the reformists in the Communist Party leadership to confront units which led the bloody Tiananmen assault.
Many people are leaving the city for safer places. Long processions of people carrying cloth bags and belongings tied up in blankets can be seen heading for the Beijing railroad station, and train whistles blow through the gray mornings, unnaturally loud in this unaccustomed silence.
Water supplies are beginning to fail sporadically in high buildings in the city. Long lines are forming at the few shops and vegetable stalls still open. Food is twice as expensive as usual.
Governments and business firms around the world scrambled Tuesday to get foreign nationals out of China as fears grew that the country could be plunged into civil war. Some governments chartered special planes for a mass evacuation reminiscent of the alarm that swept the foreign community in Iran during the 1979 Islamic revolution. At least three special charter flights were sent to Beijing on Tuesday, and others were expected. Most major Western countries, fearing the worst, told their nationals to get out of China as quickly as possible. Some big US corporations already have begun pulling their staffs out of China. Hundreds of anxious foreigners jammed airline offices and swamped embassy switchboards with telephone calls seeking advice. Some 2,000 frantic foreigners crowded into Beijing's airport to await the first plane out, terrified by the weekend carnage and the presence of tanks near their apartment compounds.
In Shanghai, angry crowds set fire to a train Tuesday night after it roared into Shanghai's rail station, killing six student protesters manning a barricade near the tracks. Six other people were injured by the train, which was unable to stop in time. Shanghai Radio said that the irate crowds set fire to the train engine and that 21 railway security officials were beaten and injured when they tried to put out the blaze.
Thousands of Hong Kong residents donned black armbands and observed a one-day general strike in the British colony on Wednesday to mourn the victims of the Beijing bloodshed.
An Italian businessman returning to Hong Kong from the central city of Chengdu said he saw a girl bayonetted to death on Sunday morning. The businessman, who asked not to be identified because he might have to return to China, said he saw from the window of his office soldiers arrive in a truck, fire teargas and advance with fixed bayonets, shooting as they went. "I saw with my own eyes a girl, 15 to 16 years old, with a bayonet inside," said the businessman, holding both hands to his stomach. He said the girl was about 20 meters away from him at the time. The soldier then bayonetted her twice more in the chest and left the body on the street.
A British businessman returning from the same city said: "Chengdu is burning. It is seriously out of control." On Monday night he and another foreigner were in the Jinjiang Hotel when it was attacked by a mob and a small fire was started. About 45 foreigners moved to the private quarters of the US consulate in a wing of the hotel on the second floor. British engineer Rob Casey, 47, who also took shelter in the consulate, said the rioters were hooligans and unemployed troublemakers, not students.

1983: 170 personas en un naufragio, en el Volga, al chocar el barco en que viajaban con un puente ferroviario.
1980 Henry Valentine Miller, escritor estadounidense.
1980 Philip Guston, Canadian US Abstract Expressionist painter born in 1913. — Philip Guston, pintor estadounidense. — MORE ON GUSTON AT ART "4" JUNE — LINKS — To B.W.T. — Zone — The Clock — City Limits — Outskirts — The Studio — A Day's Work — Painting, Smoking, Eating — Head — Deluge II — Ancient Wall — Green Rug — The Pit — Room — Curtain — Sleeping — Entrance — Talking
1970 Manuel Gómez-Moreno, historiador y arqueólogo español.
1968 José Pardines Azcay, guardia civil, en el el primer asesinato de ETA, en Villabona (Guipuzcoa).
1967 Dorothy Parker, author-critic famed for her caustic wit, in New York.
1966 Jean Arp, French Dadaist~Surrealist sculptor born on 16 September 1887. — Jean Arp, pintor y escultor alsaciano.— LINKS
1962 Claude Piegts, vendeur, né 1934, et sergent Albert Dovecar, né 1937, fusillés pour participation à l'Organisation de l'Armée Secrète.

1954 Alan Turing, British mathematician and computer science pioneer. ^top^
At age twenty-four, Turing suggested a theoretical calculating device that could carry out step-by-step mathematical operations based on a program. The "Turing Machine" became the theoretical model for work on digital computers in the 1940s. Turing also laid the groundwork for the field of artificial intelligence, arguing that computers would one day think like humans. He devised a test to measure this capacity, called the "Turing test." Turing's death at age forty-two, an apparent suicide, happened during a humiliating medical "treatment" for homosexuality, which Turing chose instead of a jail sentence.

1942 Soldiers killed in Japanese landing in Aleutians ^top^
During World War II, Japanese forces capture Kiska and Attu in Alaska's Aleutian island chain. The Aleutians, a chain of rugged, volcanic islands curving west from the tip of the Alaska Peninsula to Russia, became part of the United States in 1867 with the purchase of Alaska from Russia. With the outbreak of World War II, a US naval base was established at Dutch Harbor in the Aleutians, but on June 3, 1942, the base was devastated by a Japanese bombing raid. The Japanese attack on the Aleutians was actually organized to divert US forces from the major Japanese offensive at Midway, a far more strategic island in the Central Pacific.
However, US intelligence had broken the Japanese codes, and rightly recognized the attack in the Alaskan Islands as merely a diversionary tactic. US forces massed at Midway, where they defeated the Japanese--stopped from even landing on the Midway Islands.
This left the Aleutians easy prey to the Japanese, who killed 25 American troops upon landing in Attu, then proceeded to relocate and intern the inhabitants, as well as those at Kiska.
In the spring of 1943, after one year of Japanese occupation, US forces prepared for a counterattack from bases on Adak and Amchitka. On May 11, two US amphibious divisions stormed onto Attu. Japanese resistance was stiff, and the island did not fall firmly into US control until May 30. In addition to battle casualties, hundreds of Americans became very ill or died from the extreme cold encountered during the campaign.
In August, after intensive US bombardments, the Japanese evacuated Kiska, and the liberation the Aleutians was complete. The reconquest of the islands secured the US northern flank in the Pacific and freed American forces to join in Allied offensives underway elsewhere in the Pacific Ocean.

1942 Jean Dunand, Swiss Art Deco designer born on 20 March 1877. — LINKS — Monkey Climbing a Vine
1912 Albert Welti, Swiss painter and engraver born on 18 February 1862 in Zurich, Switzerland. — The House of Dreams
1909 Fritz Overbeck, German artist born on 15 September 1869
1907 Routh, mathematician.

1866 Chief Seattle dies near the city named for him ^top^
Thirteen years after American settlers founded the city named for him, Chief Seattle dies in a nearby village of his people. Born sometime around 1790, Seattle (Seathl) was a chief of the Duwamish and Suquamish tribes who lived around the Pacific Coast bay that is today called Puget Sound. He was the son of a Suquamish father and a Duwamish mother, a lineage that allowed him to gain influence in both tribes. By the early 1850s, small bands of Euro-Americans had begun establishing villages along the banks of Puget Sound. Chief Seattle apparently welcomed his new neighbors and seems to have treated them with kindness. In 1853, several settlers moved to a site on Elliott Bay to establish a permanent town--since Chief Seattle had proved so friendly and welcoming, the settlers named their tiny new settlement in his honor. The Euro-American settlers picked the site because of the luxuriant forest on the bluff behind the new village. The Gold Rush in California had created a booming market for timber, and soon most of the villagers were at work cutting the trees and "skidding" them down a long chute to a newly constructed sawmill. The chute became known as "skid road," and in time, it became the main street in Seattle, though it kept its original name. When the Seattle business district later moved north, the area became a haven for drunks and derelicts. Consequently, "skid road" or "skid row" became lingo for the dilapidated area of any town. Not all the Puget Sound Indians, however, were as friendly toward the white settlers as Chief Seattle. War broke out in 1855, and Indians from the White River Valley south of Seattle attacked the village. Although he believed the whites would eventually drive his people to extinction, Chief Seattle argued that resistance would merely anger the settlers and hasten the Indians' demise. By 1856, many of the hostile Indians had concluded that Chief Seattle was right and made peace. Rather than fight, Seattle tried to learn white ways. Jesuit missionaries introduced him to Catholicism, and he became a devout believer. He observed morning and evening prayers throughout the rest of his life. The people of the new city of Seattle also paid some respect to the chief's traditional religion. The Suquamish believed the mention of a dead man's name disturbs his eternal rest. To provide Chief Seattle with a pre-payment for the difficulties he would face in the afterlife, the people of Seattle levied a small tax on themselves to use the chief's name. He died in 1866 at the approximate age of 77.

1862 William Mumford, hanged in New Orleans for destroying the US flag, first US citizen hanged for treason
1847 Göpel, mathematician.
1843 Georges Michel, French painter born on 12 January 1763. — LINKS


Condamnés à mort par la Révolution: ^top^
1794 (19 prairial an II):
DUSEVEL Pierre Philippe Joseph, 64 ans, né à Bouque Maison, cultivateur à Divion, guillotiné à Arras
MARSY Jean Baptiste, 51 ans, né à Laventie, vivandier, attaché aux armée, époux de Routier Thérèse, guillotiné à Arras
GAUCHERAN Junior, propriétaire, domicilié à Bédouin (Vaucluse), par le tribunal criminel dudit département, comme contre-révolutionnaire.
LASSALE Joseph Augustin, ex noble, et lieutenant de vaisseau, département des Hautes-Pyrénées, par le tribunal criminel dudit département, comme émigré.
SEGUIN Jean, chapelier, 26 ans, né et domicilié à Ste-Bazeille (Lot et Garonne), comme calomniateur, par la commission militaire de Bordeaux.
Domiciliés dans le département de la Mayenne, par le commission révolutionnaire séante à Laval, comme brigands de la Vendée:
HAMELIN Pierre, tisserand, domicilié à Monjean — JAMIN Etienne, tisserand, domicilié à Montigné — ROBIN Louis, laboureur, domicilié à Montsurs
Par le tribunal révolutionnaire de Paris:
LARGET Joseph Simon, employé à l'administration des domaines nationaux, 31 ans, né à Orgelay (Jura), domicilié à Paris, comme conspirateur et assassin de Jarry, et l'un des plus grand prôneurs de la faction de la Gironde.
LECOCQ Louis, 30 ans, potier de terre, né à Balancourt (Seine et Oise), domicilié à Paris, comme conspirateur, ayant désigné les députés de la Montagne comme scélérats, et dit que Marat et Robespierre étaient de ce nombre, que l'on était heureux d'être délivré du premier, que c'était un coquin de moins; et en déchirant l'acte constitutionnel, en disant : " voilà qui est bon pour allumer le feu".
LECOINTRE Pierre, volontaire au 9ème régiment d'artillerie légère, 18 ans, né et domicilié à St Joint (Seine Inférieure), comme conspirateur, ayant dit qu'il avait été fait prisonnier lors de la trahison de Dumourier avec 160 mille hommes que la République avait perdus dans cette affaire, ajoutant que l'armée du Nord avait demandé le rétablissement de la religion; que l'on pourrait tuer et assassiner les membres des sociétés populaires à la tribune, et qu'il n'en serait rien du tout.
THEZUT Guillaume, 38 ans, ex-noble, né et domicilié à Aumont (Saône et Loire), comme conspirateur ayant crié: vive le roi, et ayant dit à deux membres du comité de surveillance de Jouy qui étaient présents à ce propos, qu'il se f……. d'eux
DOMONT P. M. 36 ans, né à Louvancour (Somme), commis au bureau des travaux publics, domicilié à Paris, comme complice d'un complot qui a existé contre la liberté du Peuple au 10 août 1792.
... comme contre-révolutionnaires:
RAYER Antoine, cultivateur, 34 ans, né aux Granges, domicilié à Boissy (Seine et Marne), ...et complice de l'assassinat du nommé Jarry Officier de santé à Boissy-sur-Marne.
LECINCQUE Henry, 50 ans, commis aux ventes, né à Nancy, département de la Seine [sic], ...et comme assassin de Jarry.
BACHELIER Pierre Louis, 44 ans, cultivateur, né à Doux, domicilié à Boissy, canton de Rosay (Seine et Marne).
DUMONT Pierre Nicolas, commis au bureau des travaux publics, domicilié à Paris.
... domiciliés dans le département des Ardennes:
BOURGEOIS Jean Baptiste Antoine, 34 ans, né et domicilié à Mézière (Meurthe), administrateur du département des Ardennes.
GROMAIRE Jean Sulpice, administrateur du département des Ardennes, domicilié à Chery.
... et nés dans le département des Ardennes:
LEGRAND Jean, 45 ans, né à Gounelmont, administrateur du département des Ardennes, domicilié à Bouvesmont, ... de complicité avec Lafayette.
LEMAIRE Jean Jacques, 66 ans, né à Ste Menehould, cultivateur, domicilié à Champigneul, ... de complicité avec Lafayette.
BLAY Jean Baptiste, 29 ans, né à Vernancourt, administration du département des Ardennes, domicilié à Vadelincourt, canton de Sedan.
BOUCHER Nicolas Pierre, 45 ans, notaire et administrateur du département des Ardennes, né et domicilié à Bar-sur-Bezency canton de Grandpré.
DESHAYES Etienne, 43 ans, procureur général du département des Ardennes, né et domicilié à Rhetel.
DESSAULLY Henry, 43 ans, né à Bieerne ex noble, cultivateur et membre du département , domicilié à Montlaurent.
GERARD Claude Gabriel, ex administrateur du département des Ardennes, 34 ans, né et domicilier à Mouzou.
GERARD Claude Jean Baptiste, administrateur du département des Ardennes, 49 ans, né à Mouzon, domicilié à Sedan.
1793:
Conducteurs d'une recrue de volontaires, domiciliés à Limoges (Haute Vienne), par le tribunal criminel du département de l'Yonne, comme contre-révolutionnaires.:
DUVILLARD Léonard — SAUVAGE Bernard

1667 Thomas Dirk de Keyser, Dutch Baroque era painter born in 1596. — MORE ON DE KEYSER AT ART "4" JUNE — LINKS — The Company of Captain Allaert Cloeck and Lieutenant Lucas Jacobszoon Rotgans [giant size] _ The Militia Company of Captain Allaert Cloeck [regular size] — Equestrian Portrait of Pieter Schout — Constantijn Huygens and his Clerk — Portrait of a Man — Woman Holding a Balance
1631 Mumtax Mahal wife of Shah Jahan of India, her tomb (Taj Mahal)
1329 Robert Bruce, 53, leader of the Scots.
0555 Vigilius, Pope